Private Equity Management Opportunities
First, as with all companies, PE companies need to get their own people management right.
More than in most industries, people are the major asset. Whether in building funds, sourcing and completing deals or managing the portfolio of investments, success is uniquely dependent on the quality and effectiveness of the management team. As the Private Equity market evolves, people management needs to evolve as well.
Maximum financial returns are best ensured by developing and implementing a people strategy that is designed to deliver the current investment strategy. Recruitment, executive compensation, organisation design and talent development will all be key components. PB PE can help identify the key opportunities to improve returns and where appropriate design and run programmes to deliver the benefits.
Second, PE
companies
should also have a people management strategy for the management of their portfolio of investments.
The nature of this will depend on where the PE business strategy sits on the active-passive investment spectrum, but should always take into account the potential to use the experience and expertise developed through multiple investments to help the performance of individual investments. There is a wide variation in current practice in the co-ordination of the management of portfolio companies, including the people issues. Increasingly PE firms are employing dedicated specialists combined with a range of external / part-time advisers.
This second element is a "push" strategy where the PE company effectively "mandates" that certain people management activities will be done in a particular way, because of their importance in delivering success and / or because there is believed to be significant benefit to be derived from sharing best practice. This can be seen in a wide range of involvement including:
Recruitment – a critically important activity where the development of the consistent use of best practice can deliver major benefits.
Business activities which are rapidly evolving – such as the use of AI / machine learning and the development of agile working techniques.
Benchmarking performance by (i) applying activities such as the same employee engagement surveys across the portfolio and (ii) developing a common set of HR metrics which make it easier to identify areas of excellence and concern.
It is also important however that the investment teams who have overall responsibility for the performance of their companies are helped to develop their expertise in monitoring and managing portfolio companies.
People Business PE helps PE companies to define the extent to which they want to seek synergies across their portfolio. Such efforts are increasing as it is accepted that valuable support can be provided to newly acquired portfolio businesses that speeds up their decision making and helps them learn from the experiences of previously acquired businesses. Among many other areas, we work on developing a people management strategy for individual portfolio businesses which maximises the chances of the growth strategy being delivered.
Third, the PE company can recommend resources to individual portfolio companies.
Individual companies may not have well developed HR functions or who simply want to access quality resources who have a proven track record with other portfolio companies. This can cover almost every aspect of HR including recruitment, leadership development, coaching and mentoring, HR policies etc. This third element is a "pull" strategy where the onus is on the portfolio company to ask for help as it sees appropriate.
People management opportunities in PE
PE companies have three distinct people management challenges.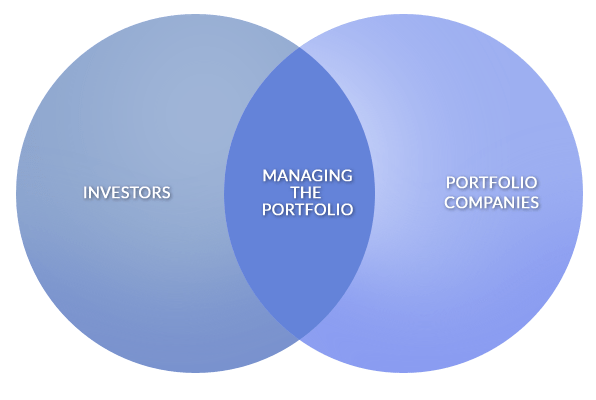 Core Programmes
There are so many people management development opportunities that it can be difficult to know which will deliver the biggest benefits.
People Business recommends completing an overview audit. This has 2 major benefits:
Identifying the biggest areas of opportunity to improve results through more effective people management
Benchmarking key aspects of your approach to people management both within your own private equity organisation and within your portfolio companies against others in the private equity sector
The audit will involve structured interviews with 8 to 10 key people and a report identifying those activities which are likely to generate the greatest return.
This audit can be adapted or expanded to meet your needs. It would create a strong foundation on which to decide what future investments in people management activity should be made.
People Business PE has experience across the full range of HR activities from strategy through policy to administration. This makes us well placed to do rigorous management due diligence as part of the acquisition evaluation process.
We recognise that the nature of Management and HR DD will be heavily influenced both by your attitude to working with existing management and by the extent of access to management during negotiations. We recommend that a bespoke Management and HR DD plan is agreed at the very start of due diligence. This plan would reflect the deal thesis / VCP, attitude to working with existing management and the anticipated level of access to them. It would identify the key HR issues specific to the acquisition and the best ways to evaluate them.
Clearly the most important aspect is assessment of the potential of the senior management team as this will affect both the investment decision and the make-up of the post-acquisition management team. People Business PE has substantial experience of evaluating senior management including the use of psychometric profiling.
The nature and extent of Management and HR DD will also obviously vary according to the nature of the business. Services businesses with large numbers of people require a very different approach to high tech businesses. All due diligence projects however need to identify any risks ranging from disputes / litigation to high employee turnover and low employee engagement.
Ideally Management and HR DD should be closely linked to post-deal activity. There are advantages to some of the same people involved in due diligence being involved in post-deal people strategy and implementation. Good HR due diligence should provide the basis for a future people strategy for the first 2 years post-acquisition. This enables the newly acquired business to make rapid progress as it enters a new growth phase. This people strategy should cover all aspects of people management but especially recruitment requirements, organisation design, training and development and culture / employee motivation.
Where practical, the due diligence process should also identify the likely internal reaction across the company to a change of ownership and the steps necessary to avoid unwanted employee turnover and to create a well-motivated workforce. Often the senior management of the recently acquired portfolio firm, having naturally been focused on the investment itself, will have low awareness of the potential impact of the investment on their own employees.
People Business have substantial experience of both pre-deal Management and HR DD and post-deal support, including the development of operational growth plans to deliver the new post-deal strategy.
If you would like to know more about People Business Private Equity then please call us on 01932  874944