Looking for a new role? 
Get in touch!
We have two passions – people and business relationships. We believe they both matter. And when both are finely tuned, organisations thrive.
People Business enables organisations to improve their people practices and business performance. Our specialist Consultancy services stretch across the full spectrum of HR and talent activities.
We are always looking for great people to be part of our team, and are currently recruiting for the following positions:

Marketing Manager (3 days per week, hybrid working)

3 days per week. £30,000 to £35,000 (pro rata)
Are you looking for a challenging and exciting new marketing role? Our growing HR and Development consultancy business in Ottershaw, Surrey have a fantastic opportunity for an experienced Marketing Coordinator or a Junior Marketing Manager looking for the next
step in their career.
It will be your responsibility to create and implement engaging and captivating campaigns to showcase the entirety of People Business. You need to be a creative, out the box thinker who wants to try new things, use new platforms and really be at the top of your game.
You will be a proactive "doer" with good technical skills as well as the ability to see the "big picture" and plan for the long term. This is a really exciting role and needs someone with plenty of energy to come in and make it their own.
Main Purpose of Job
The role has two main areas of focus:
Lead Generation
Increasing Brand Awareness
The Role
Reporting to the Managing Director you will work as Marketing Manager to develop and deliver the marketing strategy for the organisation.
Main Responsibilities
Develop and deliver the marketing strategy
Maintain and update our WordPress website, including the creation of landing pages, ensuring all areas are SEO optimized
Act as gatekeeper for the People Business Brand; ensuring all content produced is on-brand and consistent in terms of quality and tone of voice
Write engaging content for social media and create and schedule native posts and paid ads along with continuous campaign optimisation
Monitor, manage and update our Google ads campaigns
Create and deliver specific multi-channel lead generation campaigns
Manage and produce the quarterly Enews, including ongoing contact management
Develop marketing collateral as appropriate to promote the work of People Business
Knowledge, skills and experience required
At least 3 years' experience of working in a marketing role
Good knowledge of digital marketing, including Google Ads, Google Analytics,

Mailchimp, WordPress, etc.

Self-managing and self-motivated. Skills in planning, organisation, problem solving

and analysis

Creative eye and vision with strong attention to detail
Excellent verbal and written communications skills
A "can do" attitude
Team player able to 'muck in'
Location and Hours
3 days per week
Flexible hybrid home and office working
25 days annual leave, plus bank holidays (pro rata)
COVID-19 considerations
Perspex screens between desks.
Daily temperature recording.
Hand sanitiser on each desk.
Multiple tea stations.
Restriction on number of staff currently in office at any one time.

Senior Talent Consultant
Excellent opportunity to progress your talent career – circa £60-£80,000

We currently have an opportunity for an experienced Talent professional to join our team at People Business in Ottershaw, Surrey.
The sole purpose of People Business is to help people and organisations to improve their performance. Our specialist Consultancy services stretch across the full spectrum of HR and talent activities.
We are focused on high quality results and work with clients to ensure that what we do really makes a tangible difference to their organisation. We believe in working in a way which enables our clients; we always seek to share skills, knowledge and expertise.
Main Purpose of Job
The role has three areas of focus. You will be responsible for:
1. Leading, account managing and supporting client work across the full spectrum of the business. 
Designing and delivering impactful training and L&D events, leading and working on strategic, organisational development and change projects customised to the business needs of a broad range of clients from a variety of sectors.
Coaching Senior Managers in a variety of areas: E.g. Transitioning to leading a team, changing culture, business transformation, developing influencing and interpersonal skills, developing presence/impact/confidence, changing the perception others have about them – profile / image
Design of Assessment processes to support client projects. Lead on psychometric assessment for talent and leadership development.
2. As part of the senior team, leading and supporting on business development, pitching, proposal writing across the business and supporting others to do so.
Account Management and delivery of client work, helping to develop new business as well as growing existing client relationships across the People Business areas of expertise, in partnership with the wider PB team.
The Role
Reporting to the Managing Director you will work as a Senior Consultant assisting CEOs, Directors and Senior Managers from a variety of different industries to plan, develop, support and deliver customised talent services to meet their business needs. 
Main Responsibilities
1. Client Work
Lead the design and delivery of sophisticated organisation wide People interventions, managing complex stakeholder relationships and external providers efficiently and effectively to time and budget meeting, and exceeding client expectations.

Develop business proposals for Talent work opportunities and tenders

Support clients remotely and at times in person

Develop and maintain a trusted advisor relationship with key client stakeholders and executive sponsors

Lead or co-ordinate client projects, including planning, co-ordinating, monitoring, resourcing and providing management information on client projects to ensure that the key objectives are achieved to our clients' satisfaction

Carry out client training needs analysis and design engaging learning materials, internal talent assessments and development plans that address the clients' needs

Facilitate executive and management coaching, workshops and team sessions

Scope, design and deliver learning events with leaders in SME and large organisations.
2. Business Development
Focus on growing and developing existing clients, together with generating new business, using existing industry contacts, networking, marketing and pitching
3. Internal
Maintain our internal systems and procedures

Lead and support on internal project work related to continuous improvement activities, client relationship management and developing the PB business portfolio

Lead, train, and develop other members of the PB team
Knowledge, skills and experience required
Consulting
At least 5 years' experience operating at a senior Consulting level or equivalent e.g. Talent Partner, OD specialist

Experience of working with a range of clients across the Private and Not for Profit sectors

Ability to secure, design and manage large consulting projects, managing internal and external stakeholders for successful outcomes

Demonstrated ability to provide practical, solution-driven initiatives that are perceived as quickly adding value to the business

Creative in seeking solutions to client challenges

Demonstrated ability to communicate, present and influence credibly and effectively at all levels of the organisation, including executive level

Comfortable building relationships and partnering with senior managers and key stakeholders. Capacity to challenge clients in an appropriate context

Comfortable making own decisions in an autonomous environment

Executive Assessment proficiency

A highly effective communicator with the ability to clearly and concisely articulate ideas both verbally and written

Confident facilitator; designing and running L&D and training workshops across all levels

Well versed in the application of modern learning theories, tools and techniques

Ability to coach and mentor clients and colleagues
Personal qualities
Self-managing and self-motivated. Skills in planning, organisation, problem solving and analysis.

Excellent negotiation and presentation skills

Excellent verbal and written communications skills

A "can do" attitude

Team player able to 'muck in'

Excellent interpersonal and rapport building skills to provide appropriate advice, guidance and support to managers, staff and employee representatives

Meticulous and takes pride in producing work of a high standard
Marketing
Pro-active networking skills, with relevant market insight and industry knowledge

Strong proposal writing skills, able to assess, and define scope of work and negotiate on commercial issues
Technical / Professional skills
IT literate with MS Office, the Internet and social media

Experienced in working virtually using Zoom/ Teams etc

Familiar with blended learning approaches

A level B qualification and experience of using a range of psychometric tools (preferred)

Evidence of continuous professional development

A keen interest in keeping up to date with current affairs
Travel/Hours
This role will involve spending time in the PB office in Ottershaw, regular travel to central London where many of our clients are based, and across the UK dependent upon client location in Covid safe environments

Some International/ European, travel may also be required occasionally.

There is also the requirement to work flexibly in order to respond to clients' needs.
There is the opportunity to grow and develop as part of our team and certainly scope to work across our business. We are also willing to talk to people who may not 'tick all of the boxes' but who have the potential to grow into the role with support.
To apply for this role please send a CV with covering letter to Tracy.Shattock@peoplebusiness.co.uk

A little more about us
At People Business each time we hire someone new we are reminded of the importance of 'fit'. We help other companies with their recruitment all this time, but for us, this is personal.
Working together is so much more than a job, we truly see ourselves as a family. It's taken us over 20 years to carefully grow to close to 20 people, each time we form, storm, norm then perform as a team.
Within our wider team we have sub-teams of Support, HR and Talent. This role will join the Talent team comprising of Graeme, Consulting Director; Andrea MD; Chrissie; Senior L&D Consultant; Hayley Learning Advisor, Julie; Consulting Support Manager and Tracy; Associate Consultant. All of our Bio's are on the website if you are interested to know more.
We meet as a team quarterly, set ourselves challenging and progressive objectives, brainstorm our client work, offer support and ideas to each other and celebrate successes together.
As a wider team we have found many ways to get used to our remote and now hybrid ways of working, remaining supportive, collaborative and connected come what may be that virtual cream teams, buddy pairs, hosted energisers. As we gradually ease back to the office and to our clients sites, we are moving more to in person 121's, sub and wider team meetings.
Living our values for ourselves and our clients is right at the top of our agenda and deeply embedded in how we work so it's important that these resonate with you if you are interested in exploring this role further.
To articulate this in the words of the team you will find below our Team PB word-cloud, how we describe each other and some extracts from our most recent internal Values Survey.
If having read this far you feel this maybe the team for you, or you are simply curious to know more then we would love to hear from you. You can apply or just reach out for an informal discussion before committing to anything more. just email Tracy.Shattock@peoplebusiness.co.uk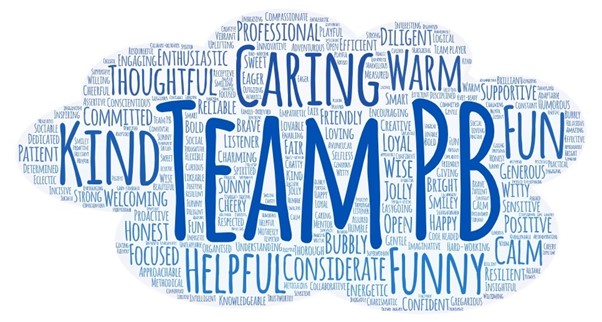 We asked the team ("and they said")
What aspects of how we work promote valuing people?
"Include all values and ideas of members of staff"
"Celebrating events and occasions, development"
"We treat people fairly and with respect, we make improvements in our work"
I've felt trusted to deliver my work in a way that fits in with homelife, and this has made me feel valued. Externally with our clients, we have huddled closely with our retained clients during lockdown and valued the ongoing commitment they continue to give us"
"We take care of our staff and put a lot of emphasis on relationships (internally and externally).
What aspects of how we work encourage making a difference?
"Always strive to delivery excellent work that will help clients"
"Always looking for new solutions, never being content with the status quo"
"When we design client work, we build on each other's ideas to constantly improve an offering, I find this really makes a difference and adds a lot of value – it's not criticism it's a positive approach. Winning client work during these difficult times, shows that they feel we will make a difference"
"I think we are challenging and supportive in the right measures and we take care to evaluate over time. We challenge participants to deliver behavioural change – do it – not talk about it in HR terms we challenge, support, educate to help leaders and business owners understand how best to lead their people and where we work with people long-term, we see the most difference"
What aspects of how we work demonstrate enabling?
"By collaborating, by teaching instead of doing for, encouraging questions and facilitating"
"Always find opportunities to work collaboratively, want clients to gain knowledge and expertise"
"Andrea leads from the front with an assumption that we can do great things and looking to set people up for success. We look to involve people and collaborate across the team"
What aspects of how we work demonstrate professional and relaxed?
"I love the way we engage with clients, and I think right across the team we embody this"
"We have high standards and always work hard to meet our commitments – and we do this in a friendly/accessible / human way. I think it is a key strength of ours"
"All our services are delivered on a client-to-client basis, each client has a "tweaked" service delivered to them. We ensure any client information is dealt with in a professional manor and we welcome feedback"
"We are all experienced at what we do, so our advice is always professional and considered. We are relaxed with our long-term clients in particular as we have built long term relationships with them, and can be open and honest"
A little more about our client work
Our clients are circa 80% UK based 20% International. They vary from start-ups to large multi-nationals, they include Financial Services, IT/technology, Construction, Education, Business and Professional Services, Leisure and Travel, Retail and Not-for-Profit.
Many of our clients have internal HR/L&D capability and who we partner really well with, often we support CEO's, MD's, Leaders and Managers to define and achieve their people goals.
A little more about you
Whist you may not have a Consultancy background, you will be hugely motivated to succeed in a Consultancy role. This means being having a bucket full of great ideas, innovative approaches to talent and development, a fantastic relationship builder, thrive on challenge and collaboration.
Our consultants are entrepreneurial in spirit and seek opportunities through networks to engage with potential clients and connections. Each Consultant has a personal performance target to achieve after a settling in period. We work together to achieve the team targets.
You will be attracted to a workplace which is as described above, be flexible to roll up your sleeves and be part of a team who have ambitious objectives.
We would love you to love what you do, and to share in our passion for achieving great results for our clients and ourselves.