Blue Monday – Five tips to inject some happiness into the workplace!
Blue Monday was first declared in 2005, reported to be the most depressing day of the year. Generally falling on the third Monday of January, Blue Monday's date is actually based on a calculation, taking the following into account:
Weather conditions
Debt levels
Time since Christmas
Time since failing New Year's Resolutions
Low motivational levels
Feeling of a need to take action
Interestingly, the concept of Blue Monday was never to make the day sound negative, but rather to inspire people to take action, make bold life decisions and to debunk the melancholic mindset of Blue Monday.
With that in mind, here are our top five tips to inject some happiness into your workplace:
Understand the importance of fun. The Great Place to Work Institute's research reveals overwhelming evidence that, "Great" companies consistently earn significantly higher marks for "fun". Having a fun workplace correlates directly with increased job satisfaction, improved morale and a higher quality of customer service. Celebrate office birthdays and work anniversaries; even just a card with a handwritten note has a huge positive impact. Hold mini competitions – here at People Business our "Best dressed desk for Christmas" competition always results in a lot of fun and some seriously wonderful creations! Arrange out-of-work social events – pub quiz nights for example can be great for bonding! Encourage laughter among colleagues –brains need passion, play and release to perform at their best.
It's now well known that performing acts of kindness actually help us feel happier. A great way for a company to do this is by supporting a local charity and encouraging your team to get involved. Introducing a Volunteering policy* to support volunteers shows your employees that you care and helps your business to build relationships with the local community too.
Invest in your team's personal and professional development. People need to constantly grow in order to feel fulfilled. This doesn't have to be a costly exercise – you could start with implementing a "lunch and learn" session on a monthly basis, where a team member presents on a topic he or she is passionate about. Another great idea is to launch an individual development plan, where your people come up with four personal and four professional goals they want to achieve by the end of the year. With each person, break down each goal into component parts and set benchmark goals and dates.
Give praise and recognition – consistently! Did you know that feeling unappreciated is one of the biggest reasons people resign**? Try following these pointers:

Make it personal – taking time out of your day to personally praise someone makes all the difference to how they perceive that praise and respond to it
Make it a team effort – praise between colleagues who work together day to day is really powerful. One of the biggest reasons you as a manager should give praise is to foster and encourage this behaviour within your workforce
Be specific – the more detailed the praise, the more effective. The detail also enables people to understand what they're doing well and the compliment will be more powerful as a result

Take time to understand the different personalities in your team and recognise the benefits and challenges of different thinking styles. Whenever we have a new starter here at People Business, they complete the MBTI questionnaire and their type is added to our MBTI team board. MBTI helps teams by helping individuals see the differences in their innate personalities – how they perceive the world and how they prefer to act. It helps team members to understand each other better. Look out for our forthcoming article about MBTI and the recent "MBTI and wine pairing" event we held (facilitated by Deborah Fleming at Chameleon Works and hosted by Nicky at Woodhaven Space) to learn more.
*If you'd like our help in putting together a Volunteering policy or our MBTI profiling and workshops, please get in touch!
**Research by The Good Boss Company.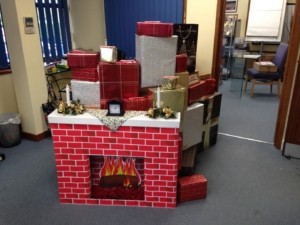 Best dressed desk winner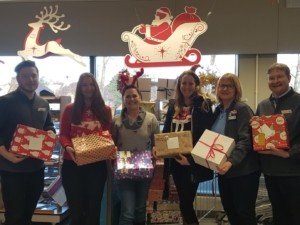 Supporting the Shoebox appeal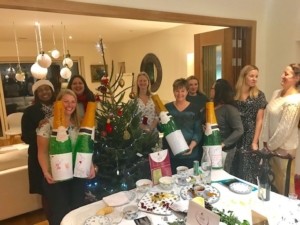 MBTI and wine pairing event